You can load multiple football matches in one go filtering by countries and leagues. It can be done on 'Load selections' page.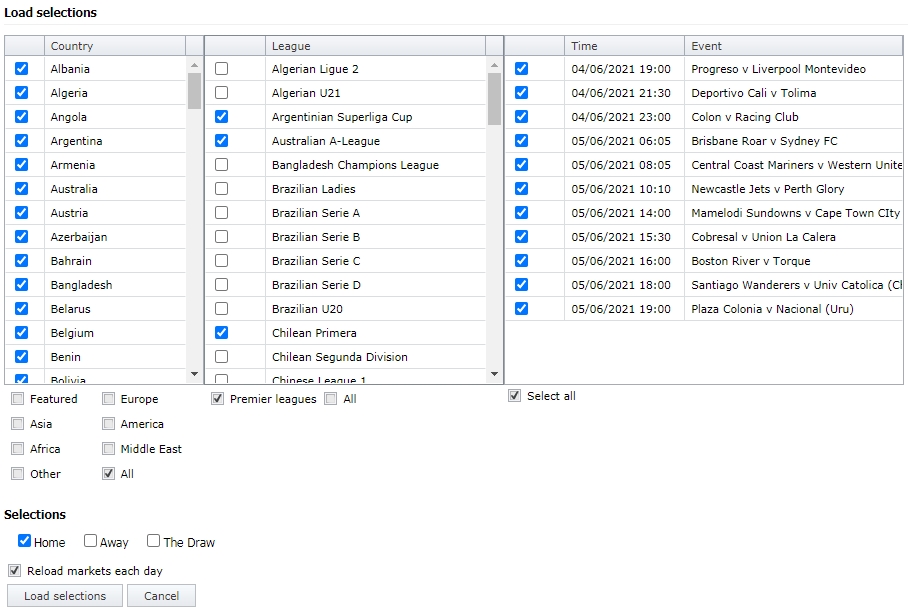 Here you have three lists: Countries, Leagues and Events. Below the lists you can tick or untick countries from certain regions or select only Premier leagues. All football matches ticked in the third list will be added into the bot when you press 'Load selections' button.
You can also tick Selections for the bets (Home, Away, The Draw). List of available selections depends on your selected Strategy. For example, if you choose Correct Score Stakes, selections will show 0-0, 1-0, 2-0, etc.
Other bet options:
Favourite – selection with lowest odds. Can be configured on Settings tab to include/exclude The Draw and to use inplay or pre-inplay prices.
Fav Team – team with lowest odds before the kick off.
Not Fav Team – team with highest odds before the kick off.
Scored Team – a team that has more goals scored at the given moment. At the time when first goal is scored in the game, it will be the team that scored the first goal.
It is possible to tick 'Reload markets each day' box. The bot will add new matches from ticked countries and leagues automatically.